Press Release
Thursday, January 26, 2022
Since 2016, when the We Exist report was published, the West African LGBTQI movement and the philanthropy sector have evolved. There is now an increased visibility of the diversity of specific thematic groups. This diversity and visible growth of the LGBTQI movement made it necessary to conduct another mapping research to update the data in the previous report.
This research resulted in the report Doundou: Mapping LGBTQI organizing in West Africa. Doundou means "alive" in Wolof. It is an important symbolism to have chosen a title in Wolof in light of the situation of LGBTQI people and movement that has greatly deteriorated in recent years in Senegal and its impact beyond this country. Furthermore, it is a term that reflects and affirms the resilience, resistance and persistence of our movements across the West African region.
The Doundou report provides compelling evidence of change and growth in the LGBTQI movement in West Africa in increasingly complex social, political, economic, and security contexts, as well as the current state of funding in the region.
Although the research focused on the qualitative aspect, the evidence obtained came from a large and diverse group of respondents including online respondents. Below is a breakdown of the respondents: 
170 LGBTQI groups/organizations, activists, technical partners and financial partners were interviewed;
289 LGBTQI people including 197 LBQ women, trans and intersex people were interviewed;
166 organizations and groups responded to an online survey.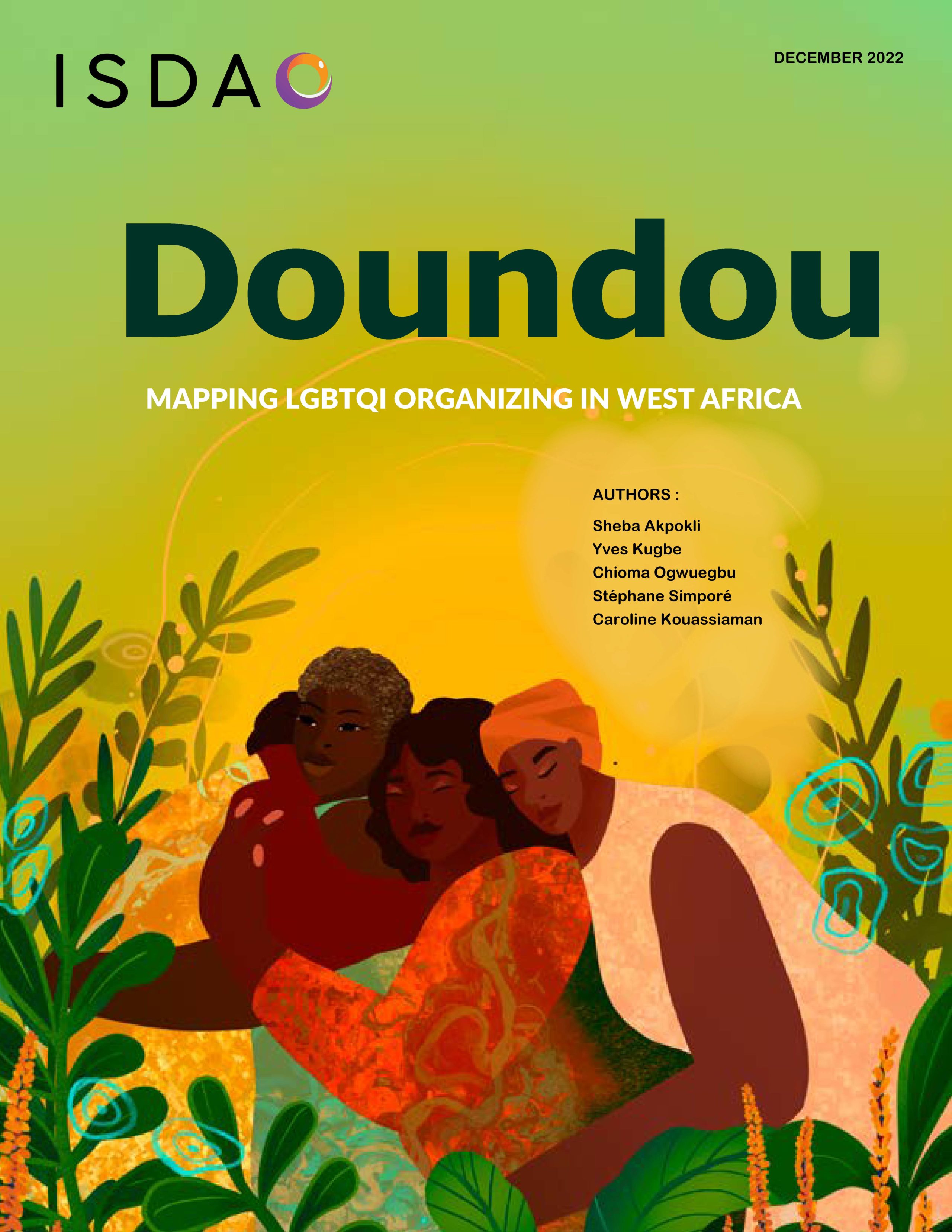 What does the report reveal? 
The Doundou report presents the following data:
An update on the growing LGBTQI activism and the new priorities of groups/organizations in the 9 focal countries of ISDAO, which are Benin, Burkina Faso, Côte d'Ivoire, Ghana, Liberia, Mali, Nigeria, Senegal, and Togo, with a particular focus on specific groups and organizations: LBQ women-led organizations, trans-led organizations, organizations that include intersex people - who are becoming increasingly visible, francophone groups/organizations, faith-based LGBTQI organizations, as well as LGBTQI organizations present in areas other than major cities;

A clear overview of how groups and organizations collaborate across country borders through shared initiatives and other synergies of regional and sub-regional actions;

A current look at the landscape of LGBTQI activism funding in West Africa, the geographic and thematic trends and gaps based on existing funding data, and the ISDAO's contribution to the existing landscape.
What are the recommendations for Donors?
Doundou offers recommendations drawn from the voices of major West African LGBTQI communities for donors and other resource organizations: 
Promote community inclusion and flexibility in grantmaking mechanisms
Fund actions focused on priority and innovative themes that are aimed at improving the quality of life of community members
Promote support for less visible or victimized communities while considering gender, diversity and well-being in the funding process
Improve access to information and participation of organizations and activists in calls for proposals
Provide funds for the education and empowerment of LGBTQI individuals and organizations who face greater difficulties in socio-professional integration  
Within the report, there are more detailed recommendations for donors, technical and financial partners, as well as for LGBTQI community organizations.
How can you access the report?
Due to the security context related to the work of the organizations and financial and technical partners identified in this report, the report will only be available upon request.
However, a summary report will be launched and made available and downloadable on our website in the coming weeks.  
To obtain the full report, please fill out the form below and the ISDAO team will send you the report by email.
" * " indicates required fields
*Doundou means "alive" in Wolof, a language spoken mainly in Senegal, Gambia and Mauritania.
** The research concerns the 9 focal countries of ISDAO: Benin, Burkina Faso, Côte d'Ivoire, Ghana, Liberia, Mali, Nigeria, Togo and Senegal. 
Graphic design and layout by Amir Khadar & Camille Gomera-Tavarez