Growth is the word that sums up our accomplishments this past year. We experienced growth on many levels in 2022 - in the number of grants we awarded, our interactions with our partners, our visibility and engagements in advocacy and social justice spaces, and of course, the growth within ISDAO's team with the arrival of new colleagues.
In putting together these highlights, we are celebrating our growth and sharing it with our movements. While this does not replace our 2022 annual report which will be published in the coming months, we hope this paints a clear picture of how our 2022 went.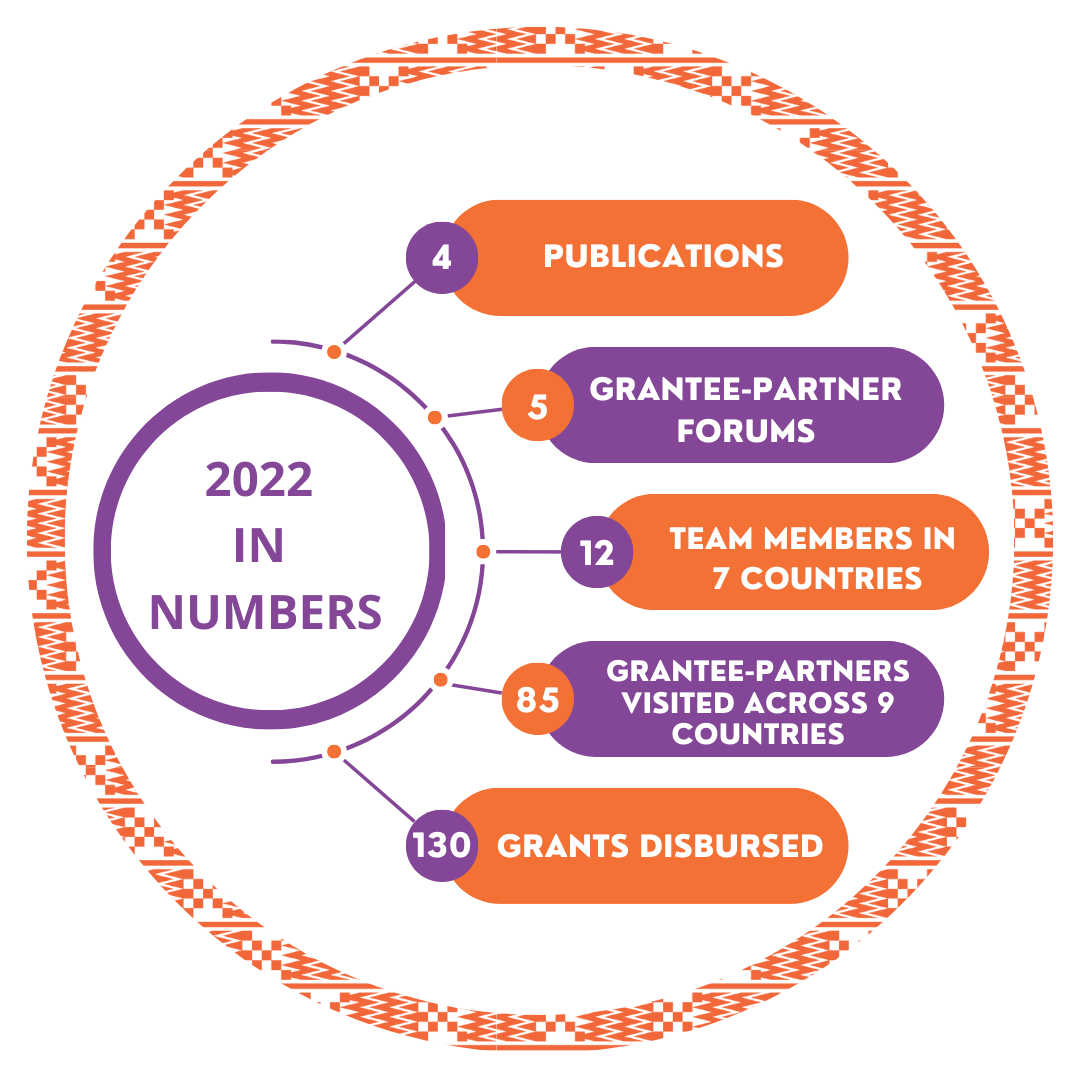 We increased our funding to the West African LGBTQI movement
In 2022, we awarded more grants in more grant categories than in previous years. We disbursed a total of 130 grants to groups, organizations, and networks based in our focal countries - Benin, Burkina Faso, Côte d'Ivoire, Ghana, Liberia, Mali, Nigeria, Senegal, and Togo. This includes the first grants made through our two pilot funds - Asanka and In-Touch, as well as grants made through our annual regional call for proposals, Resilience grants, and other Strategic grants. It also includes grants made to groups and organizations led by communities of LGBTQI persons, Sex Workers, and People Who Use Drugs in Nigeria and Burkina Faso, as part of our work in the Love Alliance. We remain committed to increasing the resources available to the LGBTQI movement in the region.
We strengthened our engagement with our grantee-partners
As part of our grantmaking process, we make in-person visits to our grantee partners to help us learn more about their working contexts and how we can better support them. In 2022, we made over 85 site visits across our 9 focal countries, more visits than in previous years. In addition, we held grantee forums in five countries - Ghana, Liberia, Burkina Faso, Nigeria, and Côte d'Ivoire. These country forums involve present and past ISDAO grantee partners, and help us engage with the national movements and better understand their expectations, challenges, and capacity-building needs. They also present an opportunity for the movements to better understand ISDAO's vision and our grantmaking framework.
We supported the building of sub-regional movements and alliances
At ISDAO, we dream of a unified West African LGBTQI movement that reflects the diversity and priorities of communities. One way we are working towards this is by supporting national and sub-regional movement building. In 2022, as part of our Love Alliance initiative in Burkina Faso and Nigeria, we promoted movement-building initiatives in Burkina Faso and Nigeria by funding collective projects within the movements of LGBTQI people, Sex Workers, and People who use Drugs.

We facilitated a sub-regional advocacy priority-setting meeting which brought together regional and sub-regional organizations, and national networks in Burkina Faso and Nigeria that work across the three communities and/or in the broader social justice movement. Through this meeting, the groups were able to get better acquainted with each other's work and struggles, identify collective advocacy priorities, and plan to address the identified priorities. As an aftermath of the meeting, ISDAO launched a closed call for proposals for a joint sub-regional initiative to address one of the priorities or an identified need. This grantmaking process is still ongoing.
We shared and exchanged knowledge through research and collaborations
We continued to prioritize knowledge production and storytelling in 2022, working on multiple publications and research projects. We launched Kuûmã, a guide to linguistic inclusion and justice based on our experience and practices working as a bilingual organization. In collaboration with Queer African Youth Network (QAYN), we launched "Who is Afraid of Gender?", a research report that provides an understanding of the structure and manifestation of anti-gender movements in Ghana, Burkina Faso, and Senegal. We also collaborated with GPP and Égides to launch the French translation of the 2019-2020 Global Resources Report, the most comprehensive report to date on the state of global funding for LGBTI issues.

Finally, we worked extensively on 3 other publications in 2022 - the 2nd issue of Myria, a special issue of Q-Zine in collaboration with QAYN, and DOUNDOU, a research report mapping LGBTQI organizing in West Africa. All three publications will be launched in the first quarter of 2023.
We supported the inclusion and amplification of West African voices in key spaces
At ISDAO, it is important for us to ensure that the voices of LGBTQI people from West Africa are always present in key spaces, particularly those who are usually less represented, like Women, Trans and Intersex persons, youths, and Francophone activists. Some of the spaces we supported our partners to participate in and/or directly participated in in 2022 include: The 10th Africa Conference on Sexual Health and Rights (ACSHR 2022), ILGA World Conference, International AIDS Conference (AIDS2022), Kopano 2022, Dignity Network Conference, ASTRAEA African convening and the Capacity-building workshop for African trans* activists by the International Trans Fund (ITF).
We grew as an organization and as a team
The ISDAO team continues to grow as we expand our work and fill more roles. We started the year with a team of 8, and by the end of 2022, we had recruited four more team members in multiple roles across Programmes, Communications, Finance & Administration, and Monitoring, Evaluation, Accountability & Learning. Our organization remains bilingual with a geographically distributed team, working remotely from several West African countries including Mali, Burkina Faso, Togo, Nigeria, Ghana, and Côte d'Ivoire. Another highlight for us in 2022 was the launch of our new brand identity featuring a refreshed logo and a vibrant and colorful new website.